1922 was the busy year that a handful of impassioned golfers in Oregon City met with enthusiasm to envision and establish a place where city folk could experience leisure and recreation in a rural setting. By creating the Oregon City Golf Club, the pioneer community would have the opportunity and location for fellow citizens to form lifelong friendships and strengthen their community's bonds.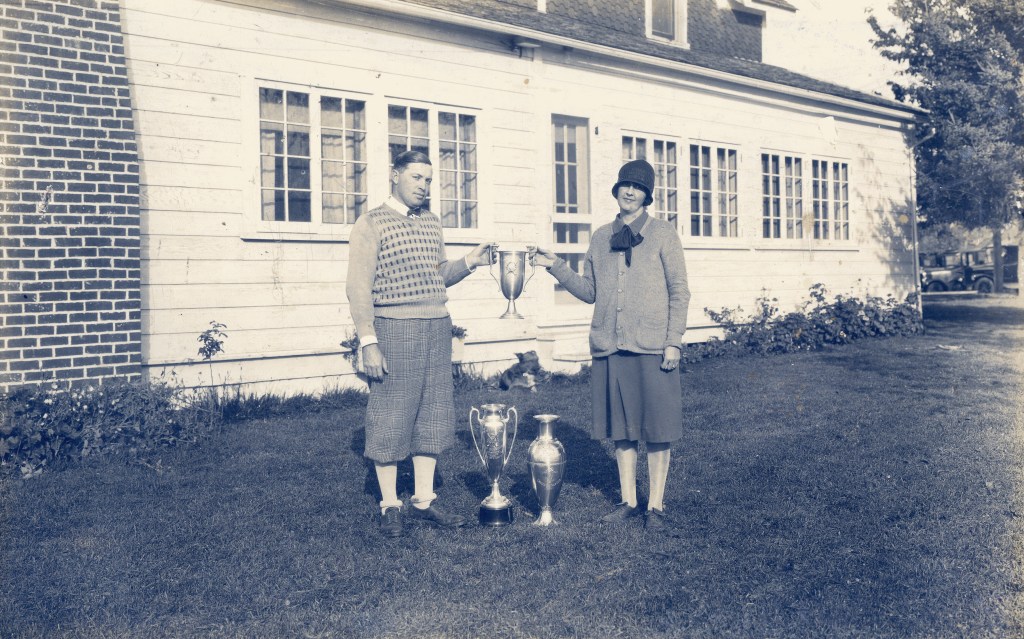 Two golf professionals from England, Howard Beals, who had experience on over one hundred seventy different courses, and R.G. Seon, with an extensive record in England and Canada, were employed. After finances were fully discussed, sites were visited, and all angles of golf operations were considered during many deliberations, someone said, "LET'S GO." Shortly after those words were spoken an 18-hole course was laid out and work was begun on the first nine.
Two teams of horses were used to draw the plows in the conversion from farmland to fairways—Horses! And, where in 1922 was the Lone Oak Farm, in 1923 the citizenry enjoyed the privilege of having as one of its assets, the makings of a first-class golf course, thus helping to usher in "the Golden Age of Golf."
The Oregon City Golf Club was originally owned and operated as a private, member-owned country club and continued in this format until 1945, although economic hardship due to the Great Depression forestalled the construction of the second nine. During that time, farming remained a part of the business, and indeed, in 1927, revenues for green fees were $115.50 for the year, and oats and wheat brought in $373! In 1928 with budgeted receipts of $500 for green fees and $400 for crops, the "War Tax" imposed upon the golf club was $786.14.
In 1932 green fees were 50 cents for 18 holes, and on weekends, $1.00 per day, per player. In 1934, the golf club purchased a "ruff" mower for $75 and was paying 20 ½ cents per gallon of gas for their equipment operation. By 1944, while farming was still a part of the club's business practice, its barley crop brought in only $156.75.
In 1945, the membership stockholders decided to sell the golf course to Herbert Hartke and Ben Gassaway, two well-known businesspersons in Oregon City. It was learned after the Agreement of Sale that Hartke and Gassaway intended to use part of the property paralleling Beavercreek Road as an airplane field. This endeavor was to be a post-war enterprise intended for retraining veterans. Over the next four years, Hartke and Gassaway discovered that they much preferred playing golf to running the course, and it was sold for the second time.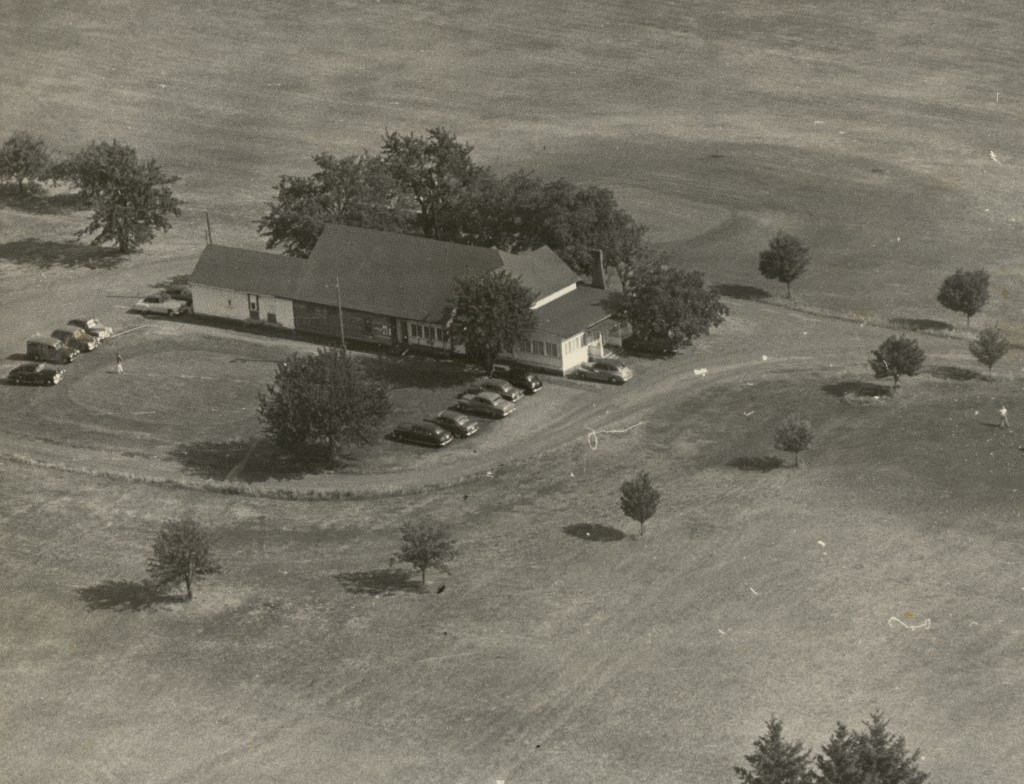 Joseph Herberger of Salem Golf Club and Lake Oswego Country Club assumed management of the club in 1949 and by 1950 became the outright owner of the property. The Herberger family has owned and operated the Oregon City Golf Club— the third oldest privately owned, public golf course in Oregon, making many substantial improvements throughout the years, since that time.
Joe had a new fourteen thousand square foot clubhouse built in 1958 with a warning to the construction company not to go over budget. When, as they all do, the company came in to talk about the need for more money to complete the project; he thanked them for their efforts, told them their work was done and he finished the building himself. In 1960, he redesigned the nine-hole course into 18 holes with an additional alternate 19th green, situated on over one hundred acres of gently rolling terrain, and hand planted and watered the over two thousand trees that today line with maturity and grace, every fairway.
October 12th, 1962 brought the Columbus Day Storm (which began as Typhoon Freda) and took with it the apple orchard and the party room. Joe's desire was to maintain the course in a manner that would allow everyone to enjoy the game of golf and remain affordable. As Joe and his wife MayRose began approaching retirement age, their six children became more involved and eventually took over the operation of the business.
In the late 1980s and early 1990s, golf was booming and becoming quite popular among the masses. It was important to the next generation of Herberger's, not only to offer golf at a reasonable price, but also to recognize that customers were beginning to expect certain amenities, and to better serve them, improvements to the property began again.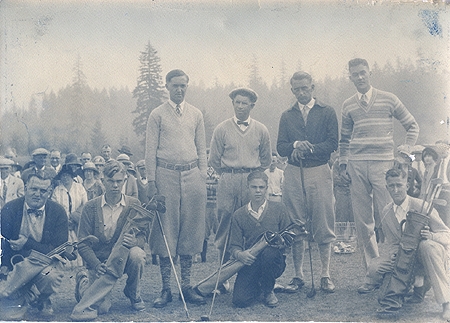 As the Oregon City bypass was constructed in 1989, 18 new tee boxes were built. The topsoil from Menconi's Berry Farm (Berry Hill Shopping Center, on the corner of Beavercreek Road and Highway 213) was brought by truckloads, deposited, and shaped to create today's current teeing platforms.
Prior to an automatic watering system, the golf course utilized the labor of the Herberger children as well as many of the area high school youth to serve as "Irrigation Specialists" who strategically placed handmade pipe sprinklers connected to ¾ inch rubber hoses that stretched more than 150 feet, on each of the 20 greens every night. These "specialists" would then spend their nights rotating the sprinklers; 2 to a green, section by section, until the entire green and first cut was sufficiently watered then would turn their attention to the tee boxes. This technique continued throughout the night, 7 nights a week, until 4:30 am when the water, sprinklers, and hoses would all need to be shut- off and rolled up before the first customers arrived. Many of these "Irrigation Specialists" that began their careers golfing and working at Oregon City Golf Club have continued with professional careers in golf around our local area.
In 1990-1993, 3 ponds were dug to serve dual purposes: as water hazards and as irrigation reservoirs for a computerized irrigation system. The new irrigation system not only watered the greens and tees but the fairways as well, thus requiring an additional water source; so, in 1993 a well was drilled deep into the basalt (1430 feet) to find an adequate supply of water.
Bunkers began to appear in 1994 and currently challenge or amuse, depending on your point of view, golfers on fourteen holes. Cart paths were added in 1995 along with a new fleet of electric power carts to reduce noise and emissions. In addition, in 1996 Joe's clubhouse underwent an extensive and elegant remodel along with the addition of a 2400 square-foot Banquet Room to replace the Party Room destroyed in the Columbus Day Storm.
What was true in 1922, is still true today, "Every out-of-door loving citizen should join the Golf Club, and everyone will if he will only take the time to go out to the links and play a game, inhale the fresh air and get close to mother nature."
Phil Hammond
1923 Annual Meeting Minutes
of
The Oregon City Golf Club