WELCOME TO OREGON CITY LADIES GOLF CLUB
Download 2022 Application HERE
2022 Executive Board
President – Barb Marold
Vice President – Danna Stoner
Secretary – Joan Hessemer
Treasurer – Vicki Shindler

Handicap Chair – Anita Harlan
Handicap Co-Chair – Vicki Shindler
Tournament Chair – Barb Marold
Social Chair – Joanne Stuvick
We welcome women golfers who want to have fun playing the game.  We are a friendly and social group of women with diverse backgrounds and skills.
Our group consists of 9 and 18 hole golfers. We have games weekly along with a Ladies & Men's Club Scramble in August, a Fall Ladies Tournament/luncheon and an annual Christmas Luncheon.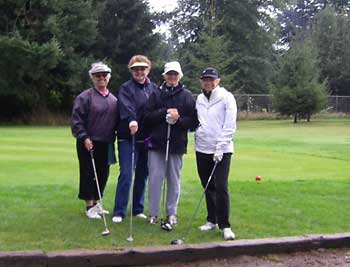 Organized play is scheduled for Thursdays, April through October. There is an 8:30 a.m. group meeting before tee times that start at 9:00 a.m. We do a blind draw which allows you to meet and play with different women each week.
Dues are $65.00 for the 2022 year. There is a 10% discount available on merchandise in the pro shop.
Please contact Barb Marold at barbbmarold@gmail.com for questions or further information.
2022 Ladies Club Application Form